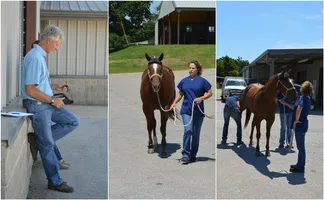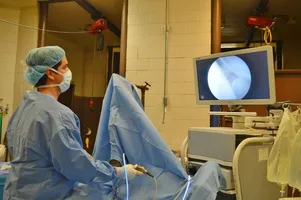 The goal at Oakridge Equine Hospital is to provide the most thorough, comprehensive, diagnosis and treatment of your horse. Our veterinarians have access to the latest advances in equine medicine and surgery, enabling them to best serve the needs of our clients.
We offer:
Full Service Equine Medicine and Surgery
MRI Diagnostics
Dynamic Endoscopic Equipment
Digital Radiography
Arthroscopic Surgery
Orthopedic Surgery
Soft Tissue Surgery
Laser Surgery
Gastroscopy/Endoscopy
Ultrasonography
Lameness/ Lameness Locator
Extracorpeal Shock Wave Therapy
CBC/Chemistry Analyzer
Blood Gas Analyzer
24 Hour Technician Support
And More…
Imaging
Radiography: Two digital systems capable of taking hospital and field radiographs
Ultrasonography: Multiple ultrasound machines capable of reproductive and other diagnostic ultrasonography
Endoscopy: A 1.5 meter flexible video endoscope and a 3 meter flexible digital endoscope
MRI: 1.5 Tesla Siemens Symphony MR unit
Anesthesia
One Anesco gas delivery system with Isoflurane vaporizer and ventilator capabilities
Two additional Mallard gas delivery systems with Isoflurane vaporizer and ventilator
Scavenging systems: passive flow to the exterior of the building
Monitoring equipment: printable invasive arterial blood pressure monitoring and electrocardiogram machine
Ophthalmic Equipment
Ophthalmoscope and routine diagnostic equipment
Consulting Ophthamologist for in-depth examination
Dental Equipment
Cordless Power Dental Float
Powered Swiss-float as well as full supply of hand floats
Wolf tooth extractors and molar pullers
Multiple types of oral speculums
Additional Equipment/Therapy
IRAP Therapy- Interleukin-1 receptor antagonist protein is a potent autologous anti-inflammatory
PRP: platelet rich plasma therapy
980 diode surgical laser
Extracorpeal Shock Wave Therapy
Bone marrow derived Stem cell therapy
RLT- Regenerative Laser Therapy
Renovo- regenerative amnion cell therapy
Prostride
Diagnostic Laboratory Equipment
Procyte DX
Two Catalyst One Machine
Heska CBC with differential
Heska chemistry machine.
I-stat
Light microscope available.
Additional tests sent to specialty laboratories
Orthopedic Equipment
Arthrex arthroscopic equipment
Arthrocare and shaver instrumentation
ASIF locking plate system.